Face Painting by Maribel of West Texas
The Funny Face Network, with permission from the Texas Party People directory, is republishing their article on face painter Maribel of Odessa Texas.
Quoting the Texas Party People article, please read below:
Texas has an amazing face painter: "Face Painting by Maribel" 
Face Painting by Maribel is run by a professional and experienced face painter, who has been in the business for a long time. Thanks to Maribel's hard work and expertise, she has a good reputation with all her customers, making her a highly reliable face painter in the area of West Texas. 
Texas Party People says this about her service options: "Face Painting by Maribel has what it takes to make your event fun and exciting for all your guests. They offer the following types of face painting to all their clients:
Regular Painting,  Glow in the dark,  or,  Water-proof….Maribel only uses paints that have approval from the European EU and the American FDA. The paint is safe to use on the skin, as it is of the highest cosmetic quality. The face paint won't peel, itch, or crack after Maribel applies it. To make the artwork unique, Maribel uses crystals, jewels, and glitter. Check out Maribel in action, click here to see Video…. or here
Face Painting by Maribel is a multi-faceted entertainment business for all your events as they offer balloon twisting, glitter tattoos, airbrush tattoos, canvas art painting, and a photo booth.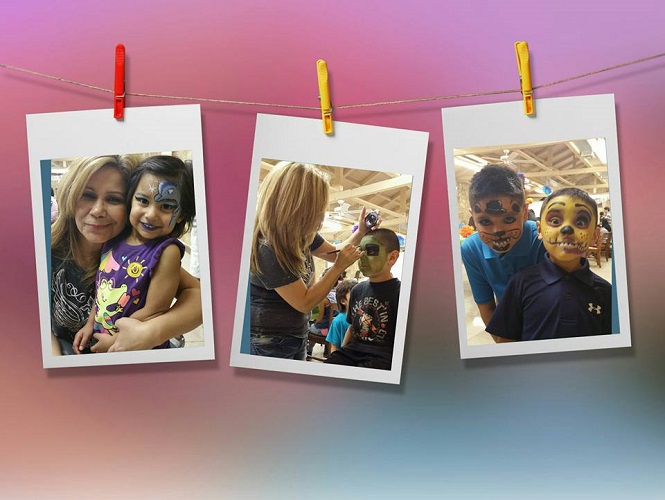 Credit: Maribel Face Painting
Face Painting by Maribel also provides T-shirts for glow in the dark parties. Kids can paint their designs on the white shirts.  You can make your event look extraordinary with henna art. Also, you can get Face Painting by Maribel to provide candy cups that match the theme of your event.
To ensure that all the kids in your event are happy, Face Painting by Maribel offers character costumes such as Mario and Luigi, Mickey and Minnie Mouse, and Elsa.
Get in touch with Face Painting by Maribel today for great offers and discounts!

Credit: Maribel Face Painting
Look for more face painters on the Funny Face Network. We are a dedicated directory for artist entertainers.